Craft, Specialty, and Hard-to-Find: The Right Bottle for Any Food or Occasion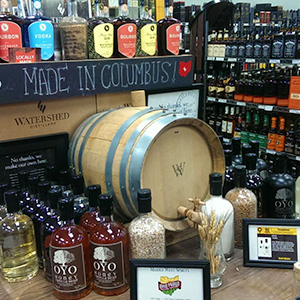 We have the Best Beer Shop, Wine Shop and Liquor Store in Central Ohio, the readers of Columbus Alive! have said for years. See for yourself—you'll be amazed at our ever-growing and changing selection of beer, wine & spirits. If you're looking for something special, you'll probably find it here (and if you don't, we're more than happy to try to order it for you).
You also can sip and shop while you're here. Enjoy a full glass of beer or wine while you shop … we even have cupholders in our carts!
Beer, wine & spirits are available for purchase the same hours the store is open, including Sunday.
Beer & spirits details:
We have eight rotating beer selections on tap (see BeerMenus.com), and you can sample before you buy. Bring your own clean growler for refills.
We proudly carry local favorites from Middle West Spirits, Watershed Distillery, 451 Spirits, Root 23 Simple Syrups, Brother's Drake Meadery, and an ever-growing list of craft breweries.
Our liquor deliveries are every Wednesday (holiday weeks can affect the day). Rare bottles are available Wednesdays at 5 p.m. You can sign in as early as 2 p.m. to get a place in line to buy rare bottles; however, if you leave the store after signing in, you'll lose your place in line. Every Wednesday around 1 p.m. we'll tweet a photo of the week's rare bottles.
We have a wide variety of American and imported craft beers.
All craft beers are available as singles (many already chilled).
We have Ohio's largest selection of bitters, and you can sample many of them before buying!
Find a wide variety of accessories, including bar supplies.
Beer tastings are every Friday from 4-7 p.m. and most Saturday afternoons (pick up a flyer at the Beer & Spirits register for a list of tastings throughout the month); we also have occasional spirits samplings.
Wine details:
We have more than 1,500 labels in stock at all prices, everything from affordable wines for parties to highly allocated wines and champagnes for your cellar.
There's a case discount of 10% on 6 or more bottles.
We have great prices on closeouts and distributor specials.
We offer a well-chosen assortment of sake, ports, sherries and Madeiras.
You'll find more than 75 selections of chilled wine always available.
Wine tastings are every Friday from 4-7, Saturday from 11-7, and Sunday from 11-6 (4 wines for $3)