Milk, Cheese, and More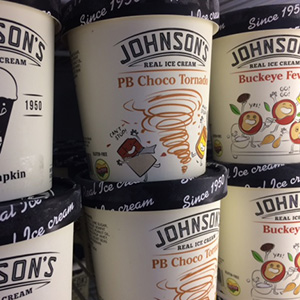 You'll find local favorites like Jeni's, Johnson's Ice Cream, Whit's Frozen Custard, Hartzler, and Snowville Creamery in our Dairy and Frozen Food cases.
We're also proud to offer Central Ohio's largest selection of Cabot cheese (blocks and shreds), dips, cottage cheese, cream cheese, sour cream, butter, and whipped cream.
More Ohio milk: Arps (Defiance), Buckeye Country Creamery (Ashland)
Local eggs: Hollistic Acres (Wooster) and Copia Farm (Johnstown)
Yogurts, including Siggi's, Greek Gods, Brown Cow, and Wallaby, plus kefir
Fresh European and domestic butter, including Hartzler roll butter
Dufour puff pastry
Specialty cheeses, including mascarpone and crème fraiche
Alexia frozen potatoes
Dips and spreads from Cabot and others
Fresh pastas
My Grandma's Coffeecake
Bulk sliced pepperoni, shredded mozzarella and parmesan cheese
Lopus Point Waffles (Columbus)
Case discounts on special orders
If we don't have what you need, we can do a special order!